Join Us!
We have two unique services every Sunday and Sunday School in between. Our traditional service is at 8:30, and our contemporary service is at 11:00. We'd love to see you there.
If you're a visitor, let us know you're coming below the article!
Introduction
At the beginning of this year, I collaborated with one of my seminary professors as he was writing a curriculum. I was asked to create a visual that would represent the goal of his work. The purpose was to reintroduce a proper biblical understanding of Jesus as He is now. A King.
This is my illustration titled, "Majesty." It comes from several passages from Isaiah, Daniel, and John's final Revelation. May I go through it with you? I want to awaken us to the supreme majesty of God's Son, to love Him as our Redeemer, to quicken our hearts for His kingdom on earth, and finally to experience the profound truth that Jesus, as King, abides within us!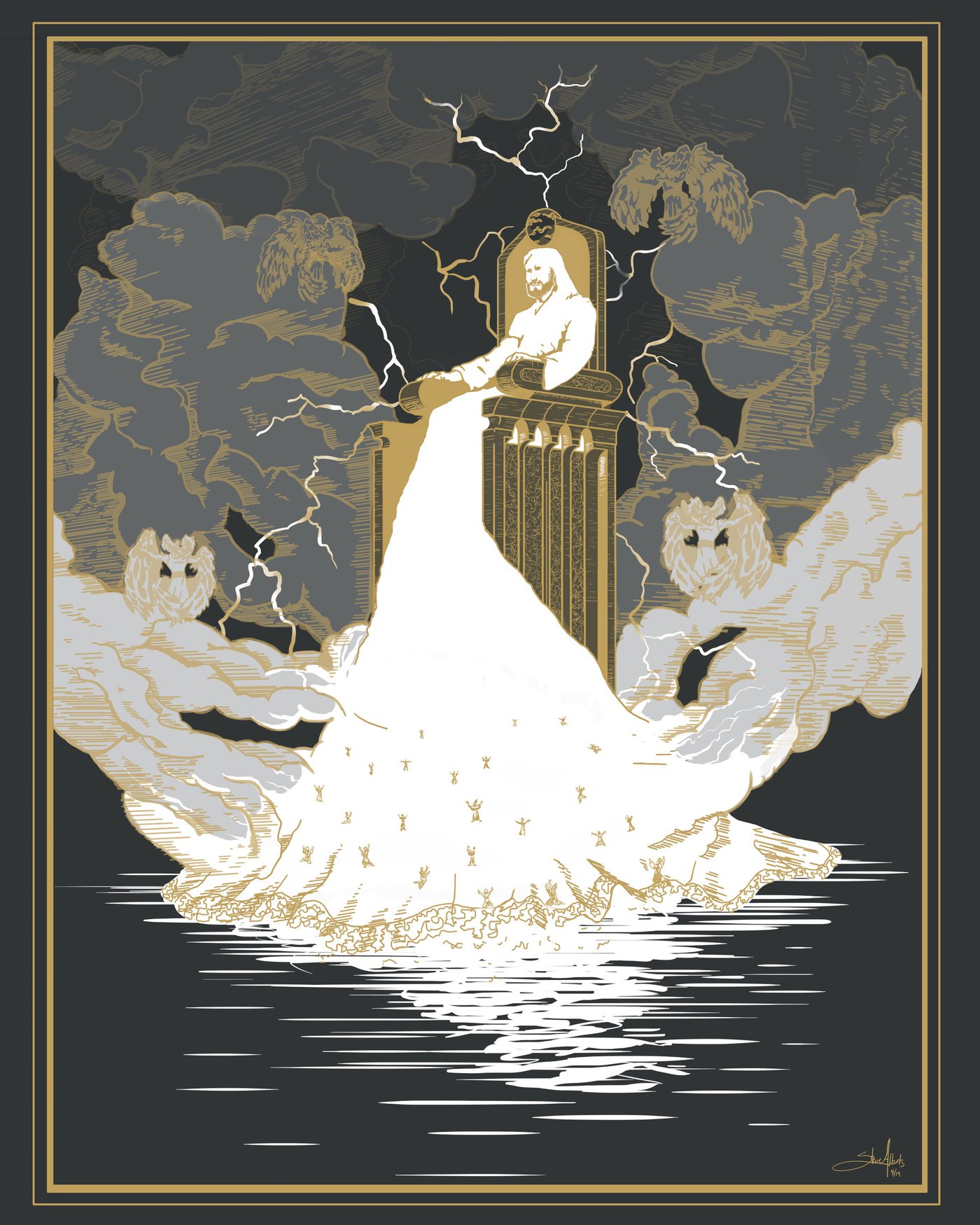 King Jesus is beyond representation.
It is impossible for any depiction to encompass who Jesus is in His divinity. Most have tried and only created images that are confusing at best, heretical at worst. I followed suit with other artists who focused only on those scriptures revealing the Son of Man, Jesus, on the throne. I chose to render the work with the line from a pen only. It reminds that our view of His glory is limited in our current state and yet, is still sufficient enough for us to see the Hope of Heaven!
King Jesus is victorious in healing creation.
Notice what is embedded at the top of the throne: the sphere of the earth. It's where we live. See if you can pinpoint where you are on it. Kingdoms rise and fall here. Countless lives are born and die here. Yet make no mistake, creation is part of His Throne. King Jesus holds creation together and heals creation for His divine purpose!
King Jesus is the Conqueror of death.
I purposefully depicted the throne with straight lines and sharp angles. Let this bring to mind the similar lines and angles of a burial casket. King Jesus presides over that which contains death! Death is not part of His sovereign rule! Death is forever vanquished; that is why pain and tears will no longer exist! Hallelujah!
King Jesus is worshipped.
Tucked away are two different representations of worship. The character of true worship is seen in the three worshipful postures of the angels and humanity. First, in clouds are the four Seraphim that surround the throne of God. Two have arms lifted high in proclamation that His will is stronger than everything. The other two have arms stretched out in humble dependence. Notice the posture of the 24 small human figures surrounding the throne. They are also worshipping by laying crowns at the feet of Jesus. Each image is a reminder that all we have gained and received from Christ will be given back in complete, thankful abandon at the feet of King Jesus! Even in Heaven, we will be dependent on an everlasting, Holy God. Worship is not the activity of the prideful. Never has been, never will be. Beautiful!
King Jesus fills the cosmos with His presence.
There are multiple images in scripture of the garments of God filling the great halls of Heaven. Can you discern where the train of Jesus' robe ends? There is nowhere the reign of King Jesus doesn't exist. Yes, grammarians, an intentional and biblical double negative that doesn't negate itself! We are surrounded by His holiness and goodness at all times. Righteous!
King Jesus rules over a glass sea.
In John's revelation, he is shown a sea of glass. A surface so still that it appeared as glass. A vast sea is mentioned as the burial site of our sin. Imagine the sins of the entire world from Adam to this present day are at the bottom of a sea that, at its surface, is still and unstirred, unaffected by what lies beneath. Power!
King Jesus comes to unite Himself to us.
This is a small nuance, an "easter egg" if you will. The depiction of the clouds is juxtaposed with two effects. The linework that shades the clouds create a focal point pointing high about the throne. Yet, the clouds flow creating another focal point where Jesus and humanity meet. My point? Let Paul say it in Philippians 2.
Have this mind among yourselves, which is yours in Christ Jesus, who, though he was in the form of God, did not count equality with God a thing to be grasped, but emptied himself, by taking the form of a servant, being born in the likeness of men. And being found in human form, he humbled himself by becoming obedient to the point of death, even death on a cross. Therefore God has highly exalted him and bestowed on him the name that is above every name, so that at the name of Jesus every knee should bow, in heaven and on earth and under the earth, and every tongue confess that Jesus Christ is Lord, to the glory of God the Father.
Majesty. It describes the reality of who Jesus is! Today, consider the majesty of God's Son. He is Holy, perfect, beautiful, high, righteous, worthy, all-knowing and all- powerful! Do you see Him in this truth? He is so, so much more than we can think or imagine! As you approach life's myriad of concerns, remember who you serve and who is your life!
I look forward to exploring this strong truth with you, see you at church!